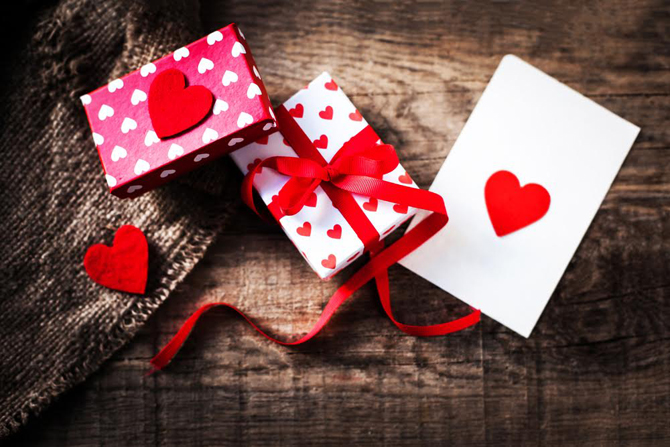 Valentine's Day is just around the corner! Rose bouquets are being prepared in every florist and every heart is fluttering in loved up anticipation. You've got all your Valentine's Day plans ready: you've booked your table for two, you've picked out your best outfit… but there is still one question buzzing insistently around your mind as Feb 14th comes ever closer – What present do I get him?!
That's a tough one. Buying the perfect gift simply depends on the individual. Does he likes sports, or art, or books? Is he a hopeless romantic who wants the whole 'rose petals in the bath' type on Valentine's Day, or do you both enjoy taking the mickey out of such occasions? There are no right or wrong answers! I can't really tell you what would be perfect for your loved one, I mean, I can point you in the right direction but a lot of it has to be left up to you. However, saying that, I can certainly 100% tell you what NOT to get your boyfriend this Valentine's Day! Knowing these no-go gift areas will guarantee you will never misfire this Valentine's Day!
1. Clichés
Sure, you could treat your boyfriend to a bunch of roses, heart shaped chocolate box and a cute teddy bear holding a heart saying 'You're the One' this Valentine's Day – but it's not awfully inventive. Think outside the box and get creative, it'll make your gift memorable and show that you've put thought into it.
2. That shirt you like
This a good tip from the top: Don't buy your boyfriend clothes that YOU want him to wear. Buying him clothes that you want him to wear doesn't send off the right message, especially on Valentine's Day. It reeks with a 'I want to change you' mentality that may make your partner feel self-conscious. Imagine if your boyfriend picked you out an outfit that you hated and hinted that he wanted you to dress like that from now on? You like elegant flowing maxi dresses , but he's trying to get you wear ripped t-shirts and biker boots. It doesn't work does it?
3. Something Valentine's Day themed
Getting him a t-shirt with 'Valentine's Day' written on it, or anything else in a similar ilk, may be cute for the 14th of February, but for every other day for the rest of the year it will be unusable. Don't waste this gift opportunity by buying something that can only be used for one day of the year.
4. Vouchers and gift cards
We all know that vouchers are a great present for family members you don't really know or friends who are hard to buy for, BUT under no circumstances should you resort to buying a voucher for your partner on Valentine's Day. Vouchers scream 'I don't really know you and this is the most inoffensive gift idea I could think of'. It's like getting someone candles or toiletries, they're always nice to receive, but it's an anonymous gift that anyone could give them.
5. Socks and/or pants
This one should be self-explanatory. No one enjoys opening a gift to find something practical inside. Leave the socks, pants and vest present department for his family to sort out at Christmas. This is a day for you to spoil one another! Really go for it! This is the time to get your boyfriend those really hot Chukka Boots he's been eyeing up on the Mr Shoes website for the past 6 months, or getting him a ticket to a band he's always wanted to see. Push the boat out on Valentine's Day!
6. Novelty gifts
Buying your boyfriend a funny singing fish to hang on the wall, or an apron that has a funny cartoon woman's body on it may be funny for the first day or two, but trust me, those gifts are always the first to go. He'll probably use it once and then never touch it again. Aim for longevity when buying gifts!
7. Aftershave
Unless you know what his favourite aftershaves are, I would recommend NOT getting your boyfriend a cologne this Valentine's Day. People spend months and years refining what their perfect fragrance is, you don't want to misfire and get your boyfriend something completely off. Your boyfriend knows what he likes and may not be into the aftershave you've bought him. They are expensive and you don't want it to go to waste!