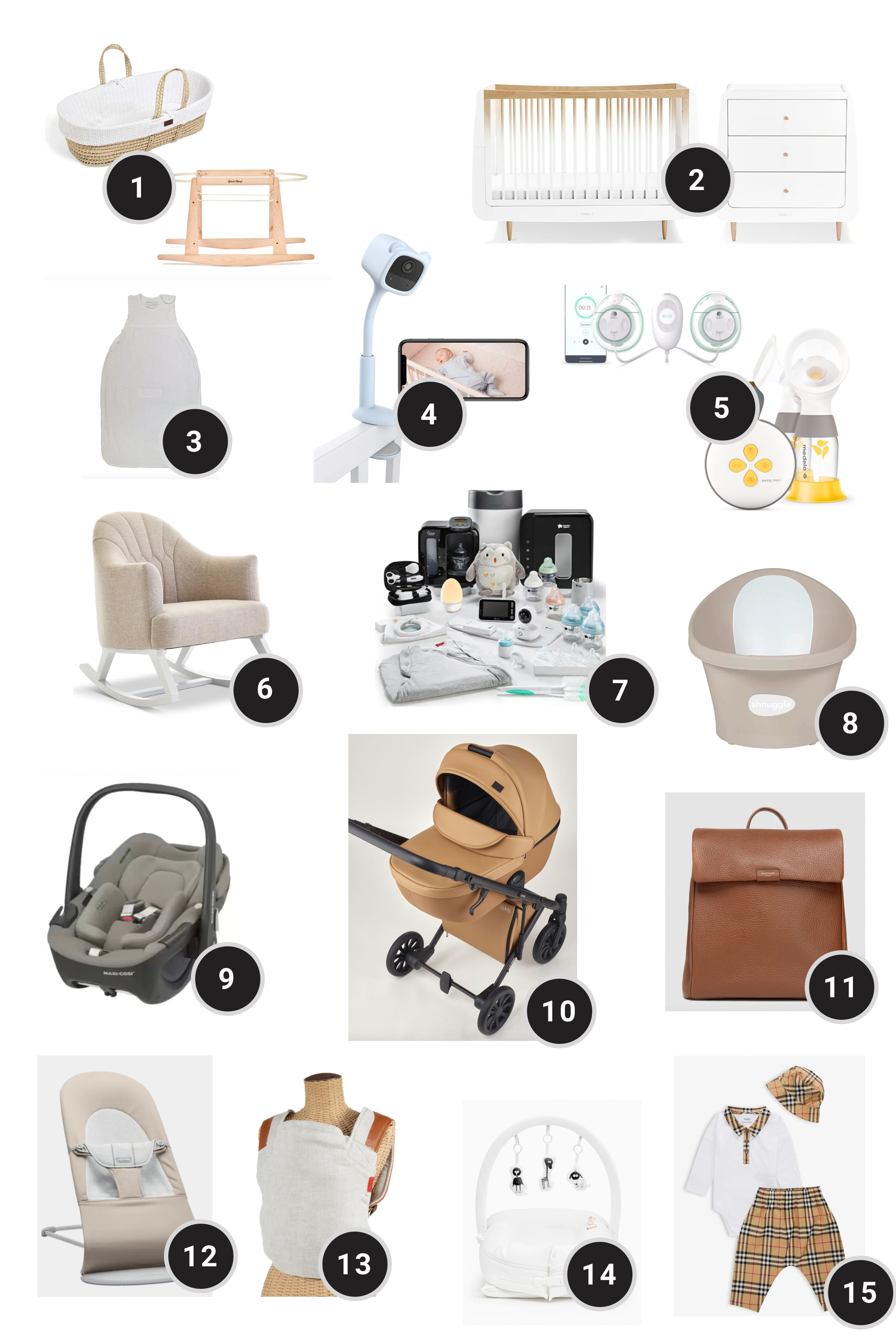 Becoming a parent for the first time is an exciting and overwhelming experience. With so many things to consider, it can be difficult to know what you really need for your new arrival. While every baby is different, there are some essentials that every new parent should have on hand to make the transition to parenthood a little easier. As a second-time mum, I already know what did work and what didn't so I prepared a list of newborn baby essentials so you can prepare for an exciting baby arrival without stress.
1. Moses Basket. NHS recommends that the baby sleeps in the same room for the first 6 months therefore Moses Basket is a great option to keep the baby beside your bed. You can easily feed the baby during nighttime and provide safety reassurance. It is also portable so you can place the Moses Basket in any room. It's so convenient especially if you are working from home and want the baby by your side during working time. I chose The Little Green Sheep Moses Basket with a rocking stand made from organic palm and solid beech wood.
2. Cot or Cotbed. Baby will outgrow Moses Basket pretty soon so you will need a larger bed. I chose SnuzCot which not only looks amazing but can be converted from a cot to a toddler bed as well as can be extended even further up to 10 years old (with a Junior extension kit). I opted for a set with a baby-changing unit. And of course, a new mattress is a must-have for a baby. Even if you decide to go for a second-hand bed, the mattress has to be new. I chose SnuzSurface Pro Mattress suitable for SnuzKot. And let's not forget the cotbed bedding. Make sure it is made from cotton.
3. Sleeping Bag. It's a great way to keep your baby warm without having to fix a kicked-off blanket. Make sure to choose the right tog for the season. I love Merino Kids Go Go Sleeping Bag.
4. Baby Monitor. It's one of the best inventions for babies and mums! It truly gives you peace of mind when you are not in the same room as you can closely monitor the baby. I chose the EZVIZ BM1 camera which not only looks cute but has various functions such as crying detection, baby activity detection, out-of-crib alerts, soothing music, up to 8x zoom, and many other great features.
5. Breast pump (if you are planning to breastfeed). I used Medela Breastpump with my first one and I loved it. It expresses milk without any leakege as well as has bottles attached so you can feed the baby straight after pumping. To make pumping easier, I got Medela Easier Expression Bustier.
I also got Elvie Stride Pump from Natural Baby Shower. It is a hands-free hospital-grade lightweight breast pump. Perfect for mums who goes back to work, travels a lot or just wants discretion when pumping milk. Love how lightweight and discrete it is!
6. Nursing Chair. I believe that not everyone will agree with this purchase however after trying a nursing chair in the shop, I was determined to get one. I chose Obaby Round Back Roking Chair and I love it. It not only makes feeding time more comfortable and relaxing, it can also be used to make the baby asleep quicker with gentle rocking movements as well as have some relaxing mummy time.
7. Bottles, Steriliser, Prep Day and Night Machine. If you are bottle feeding, all these bits will be necessary. And even though I will be breastfeeding, I will still be using bottles and steriliser for expressed milk. I highly recommend Tommee Tippee Ultimate Newborn Starter Bundle that not only includes bottle feeding essentials but also essentials for a good night's sleep as well as a baby healthcare kit, nappy bin, feeding bibs, etc. Perfect newborn bundle in one box!
8. Baby Bath. A soft, safe place to bathe your baby is essential. A baby tub, basinet or sink insert can make bathing your little one easier and more convenient. I chose Shnuggle baby bath with plug from Natural Baby Shower. You will also need a soft towel, washcloth, and baby soap or shampoo.
9. Car Seat. It is not only essential for taking your baby home after the hospital but also it is a must-have for a safe journey whenever you are traveling in a car. I was fascinated with 360 car seats and was so happy to get Maxi Cosi Pebble 360 together with FamilyFix 360 base. And if you are looking for the whole travel system inc carrycot and stroller, you can choose Adorra Luxe Travel System Bundle.
10. Baby Stroller. A stroller is a must-have for getting out and about with your baby. Look for one that is easy to maneuver, has a good suspension system, and is adjustable to accommodate your growing baby. There are a variety of baby strollers and you need to choose the one that suits your requirements. Do you live in the city or the countryside? Do you need only carrycot from birth up to 6 months or the whole travel system? Think everything through before choosing the stroller. I fell in love with Anex Stroller in caramel as it looked so unique and had amazing features!
11. Changing Bag. When you are a mum and traveling with a baby (even locally) you need lots of things including changing mats, nappies, muslins, baby wipes, bottles, spare clothes, and many other things so a spacious changing bag is needed. I love StorkSak changing bags and got St James Leather Bag.
12. Baby Bouncer was a lifesaver with my first one. I could do so many things while my baby was sitting, kicking and playing in BabyBjorn Bouncer, so there was no brainer to get one for my second son too.
13. Baby Carrier. A baby carrier can be a lifesaver when you need to keep your hands free but still keep your baby close. Look for a carrier that is comfortable for both you and your baby and provides the right level of support. I love Sakura Bloom baby carrier made from silk and leather.
14. Play Time Pod. DockATot Deluxe Pod is a fantastic pod for babies to play, lounge, and do tummy time. I had it with my first son and he loved it so decided to get one for my newborn as well. You can also add the Toy Arch.
15. Baby Clothing. You can choose from a variety of clothing depending on your budget. You can look at various high street shops, inc M&S, H&M, John Lewis or high-end shops such as Gucci, Burberry, etc
Get it now:
1. The Little Green Sheep Moses Basket £159.95
2. SnuzKot 2 Piece Set: Cotbed and Changing Unit £878
3. Merino Sleeping Bag £79
4. EZVIZ Baby Monitor £129.99
5. Elvie Stride Breast Pump £299 & Medela Breast Pump £269.99
6. Obaby Nursing Chair £345
7. Tommee Tippee Ultimate Newborn Starter Bundle £304
8. Shnuggle Baby Bath £25.95
9. Maxi Cosi Pebble 360 Car Seat £249.99 & FamilyFix 360 base £209.99
10. Anex Baby Stroller £849
11. StorkSak Changing Bag £198
12. BabyBjorn Bouncer £185
13. Sakura Baby Carrier £203
14. DockATot Pod £180
15. Baby Clothing from £6
While every baby is different, these essentials can help make the transition to parenthood a little easier. Remember to take your time, don't stress too much, and enjoy the journey of parenthood!
*This post contains gifted items, but all views and opinions are my own.